Young Leaders Summit 2023
Nov 10 - Nov 12 2023
CUTA is the national voice for public transit. Our members include transit systems that carry 95% of the country's riders, public bodies, companies that supply the sector, and experts in urban mobility. We advocate for investment and support from governments. We share best practices. We facilitate conversations and connections to help transit professionals keep up with the latest. And we're the leading data collector in the field.
CUTA will be hosting the next Young Leaders Summit in Edmonton, AB from Nov 10 – Nov 12, 2023 (Weekend Preceding CUTA's Fall Conference & Annual Transit Show). Youth ages 18-28 will be eligible to apply here.
For more details check out our latest YLS Blog Post (linked here)
Theme: Shaping the Future of Transit
We will look specifically at:
• Infrastructure in cities
• Technology and innovation
• Workforce and transit users
Apply to join the Young Leaders Summit in Edmonton here.
Support Opportunities
To make this summit happen we need the support of key partners. Please review the support benefits and opportunities to see how your organization can take an active role in shaping young leaders in our industry.
Learn More
Thank you for the Support for our 2023 Young Leaders Summit
Platinum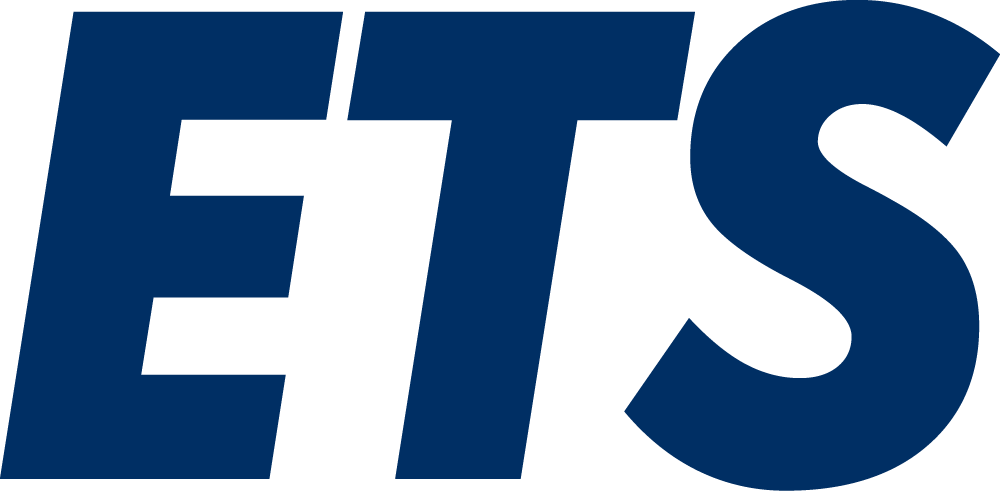 Edmonton Transit Services

NovaBus
Gold

Strathcona County
Silver

Urban Systems Ltd.
Bronze

BC Transit

Leading Mobility Consulting

Réseau de transport de la Capitale

United Safety & Survivability Corporation
What is the Young Leaders Summit?
The Young Leaders Summit (YLS) is a 3-day youth conference that seeks to inspire a new generation of transit leaders. This will be accomplished through a series of speakers from across the transit industry, technical tours, case competitions, and unique networking opportunities. Delegates have the opportunity to attend at a relatively low-cost, as well as have access to the full CUTA Annual Conference and Transit Show at a heavily discounted rate.
The next generation of transit industry workers brings an unmatched level of diversity and new ideas. From transit enthusiasts, current and recent graduates, tradespersons, and those still searching for their future careers, the transit industry holds great potential to develop future young leaders. It is up to current transit industry workers to inspire, influence, and develop the next generation of transit leaders in order for transit to continue to grow for many years to come.
As a Young Professional
The Young Leaders Summit will expose you to new ideas, networking opportunities with fellow young professionals and current leaders in transit, through a fun, creative, informative, and affordable manner.
Apply to join the Young Leaders Summit in Edmonton here.
We expect to complete the evaluation of YLS applications of our decision by mid-September, and will be notifying applicants by no later than September 15th, 2023.
As a Transit Agency/Business/Individual
Getting involved with the Young Leaders Summit provides a unique opportunity to scout new talent, develop inter-generational professional relationships, and learn new ideas from the next generation of young professionals.
As a Sponsor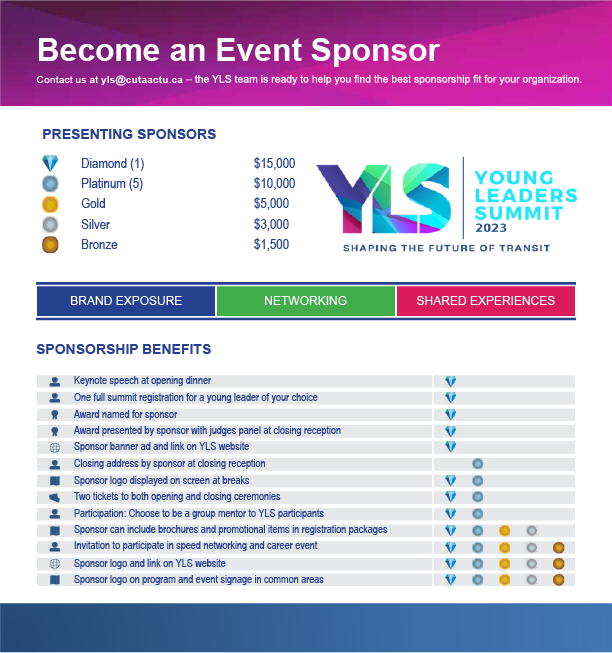 FAQ
If you're just over the age limit and new to the transportation industry, we still encourage you to apply!
Yes, travel from Toronto would be covered. The dates are relatively flexible and arrangements will be discussed with successful applicants.
Applicants who apply by the early bird deadline will be short-listed. However, this does not guarantee selection.
Unscheduled time can be used by delegates as they desire.
The event is not annual but it is likely that future YLS events will be held in Calgary or another Canadian Municipality.
The essay format is intentionally open-ended. Applicants should keep in mind that essays will be read by a selection committee. It will be important to clearly answer each of the prompts and make each of answers distinct.
Applicants can edit their application if they used the 'send me a copy of my responses' feature on page six of the application above the submit button. In the email there is a link to edit your response to the form that you submitted. If you did not send yourself a copy of your responses, you can try to find the form submission confirmation in your browser history.
As long as your application essay roughly meets the requirements within reason, the selection committee will use their discretion when reviewing application essays.
Unfortunately, we are unable to extend the early bird deadline for any individual applicant.
Applicants in early stages of their career are encouraged to apply. Two years of work experience would normally be considered 'early career stages'.