Dennis Fletcher Wins William G. Ross Lifetime Achievement Award
Published November 15, 2023.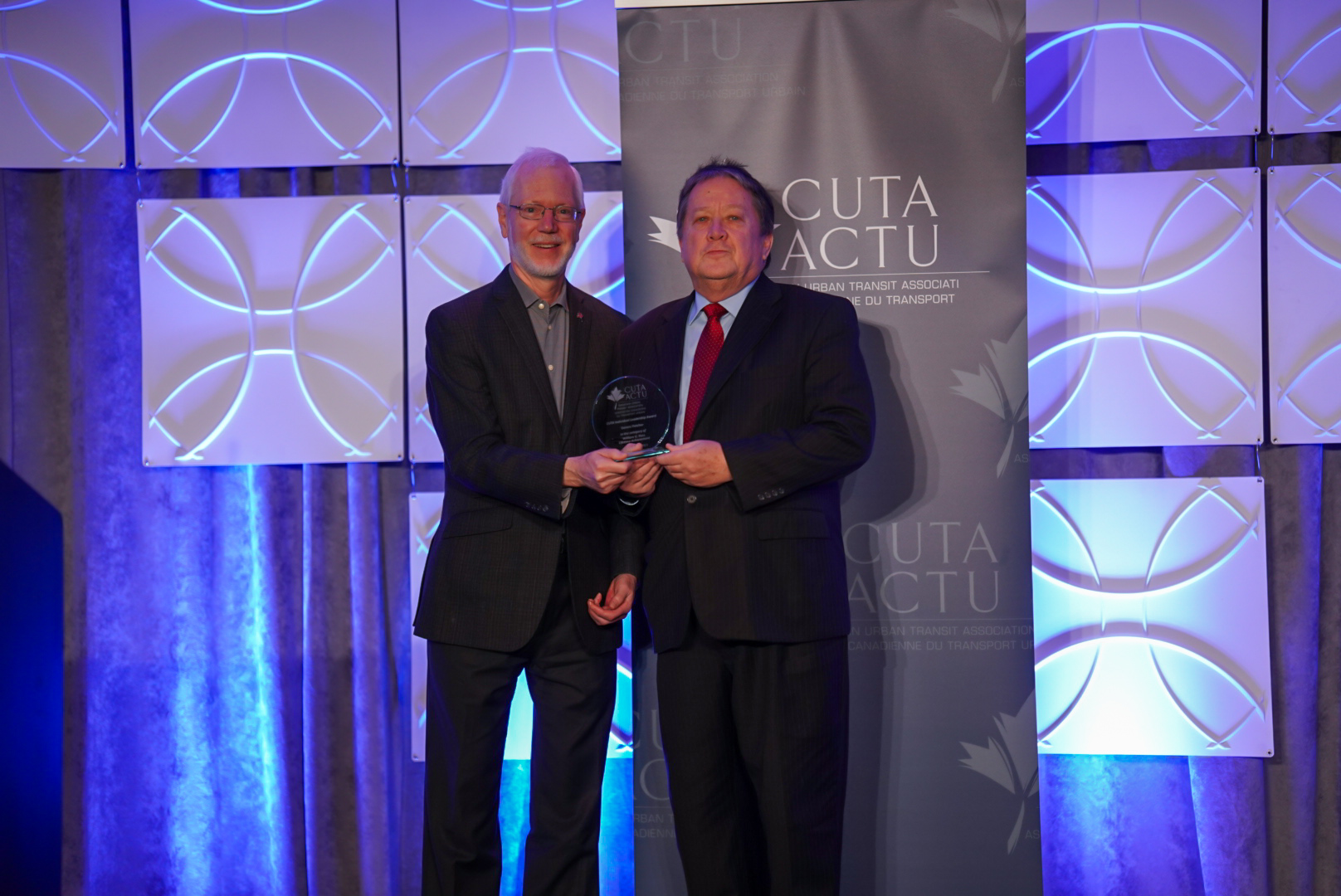 Dennis Fletcher received the William G. Ross Lifetime Achievement Award at the 2023 CUTA Awards Ceremony.
Dennis has been dedicating his career to the public transit industry since 1986. Although he started at the Toronto Transit Commission (TTC), he made a significant impact as a consultant in public transit services across Canada. Dennis played a crucial role in building and developing transit teams. His work spanned nearly 100 municipalities across Canada and 20 U.S. states, encompassing a wide range of communities and project scopes.
Dennis is renowned as one of Canada's foremost experts in service planning, having contributed to service growth and improvements for numerous agencies. His portfolio includes over 30 transit terminal concept planning and design projects, such as the TTC Don Mills Station's concept plan in 1999 and the MiWay Square One terminal concept plan in 1996. He has also been a champion of transit accessibility, working on over 50 projects with a focus on accessibility, including early planning for TTC's Spadina low-floor streetcars in 1994 and assisting in developing accessible PRESTO devices in 2009.
Dennis's contributions extend to communities both large and small. He has conducted feasibility and implementation studies that led to the successful launch of new transit services in various municipalities, from Charlottetown to Greater Toronto. In addition, he has played a pivotal role in advancing transit in major cities, such as leading the Durham Region Transit Amalgamation Study.
Dennis's impact on the Canadian transit community and CUTA is immeasurable. He is one of the founding instructors for CUTA's Transit Planning and Transit Scheduling & Runcutting Courses, imparting fundamental knowledge to nearly 1,000 students who have gone on to hold leadership positions in the transit industry. As a long-standing member of CUTA's Board of Directors since 2002, Dennis has led significant initiatives, including the VIP Advocacy Program, Fees Review Task Force, and By-Law Review Task Force, resulting in substantial improvements to CUTA's services and governance. Dennis's legacy in the transit industry is evident through the leaders he has trained, the programs he has advanced, and the enduring impact of his work.